The Shanghai Institutes for Biological Sciences, Chinese Academy of Science (SIBS) and the Regents of the University of California on behalf of its Los Angeles campus (UCLA) signed a Memorandum of Understanding in Shanghai on April 19. Dr. CHEN Xiaoya, president of SIBS, and Dr. Gene BLOCK, chancellor of UCLA, signed the MoU as representatives from both sides.
Under the partnership, SIBS and UCLA agree to encourage the development of a variety of activities, for instance, visits and informal exchanges of faculty, scholars and administrators, cooperation in postgraduate education and training, and exploration of possibilities for developing joint research programs and collaborations, particularly in the area of translational sciences and biomedicine, including the possibility of establishing a "SIBS-UCLA Joint Center for Translational Medicine in Shanghai", etc.
The 1st SIBS-UCLA Workshop on Translational Medicine was also held on April 19 to promote the interactions among scientists of both parties.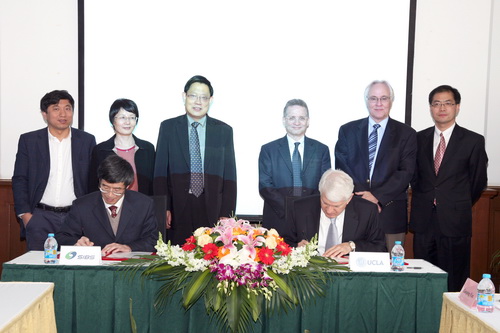 MoU Signing Ceremony (Image by SIBS)