On July 3rd, ShanghaiTech Frontier Lecture-BP Statistical Review of World Energy 2013 Shanghai Sharing Session was held in the Interdisciplinary Advanced Science Frontier Base of Chinese Academy of Sciences. Dr. Christof Rühl, Chief Economist of British Petroleum Group delivered the lecture. Dr.Mianheng Jiang, Chairman of Executive Committee of ShanghaiTech University and President of Chinese Academy of Sciences Shanghai Branch was present at the talk.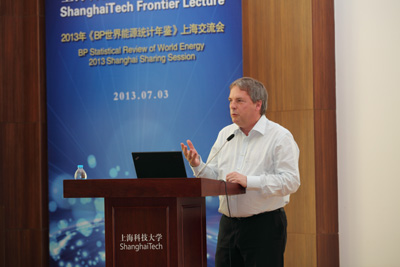 As the most time-honored world energy statistical review, the BP Review is 62 years old. It's considered a major source of information of the world energy market for its high-quality, objectivity and contingency of data. It includes the statistics of the reserve, consumption, production, price, trade, etc. of oil, gas, coal, nuclear energy, water and electricity and renewable energy.

In the Sharing Session, Dr. Rühl analyzed the latest development of world energy, the challenges and the opportunities, and explored the issues of interest in the world energy market and future development.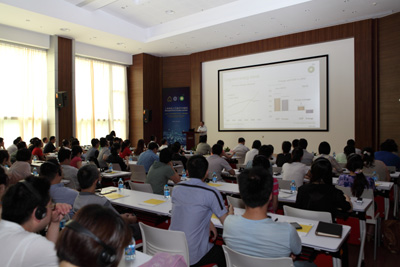 The goal of ShanghaiTech University is to be a small-scale, research-oriented, international university of excellence, where education, research and entrepreneurship meet to provide a multi-disciplinary approach to learning and to solving problems facing society. A close collaboration with industry is part of ShanghaiTech's international strategy. Dr. Christof Rühl is the first high-level leader from a multi-national company to give frontier academic talk. The near future will see more similar events for a dynamic international atmosphere on ShanghaiTech campus.

Prof.Jie Yin, Deputy Chairman of the Executive Committee of ShanghaiTech University hosted the Sharing Session. Mr.Liming Chen, BP China President delivered an introductory remark. Experts on energy research, intelligence, graduate students, staff from ShanghaiTech, research institutes from CAS Shanghai and Shanghai Advanced Institute participated in the session.