The Shanghai Institute of Materia Medica, Chinese Academy of Sciences (SIMM) launched more cooperation with Portuguese university and company during the visit of Portuguese President Cavaco Silva to SIMM on May 14, 2014.
The enhanced cooperation was unfolded by the Memorandum of Understanding (MoU) signed between SIMM and Portuguese University of Minho (UMinho), as well as a collaboration agreement between SIMM and TechnoPhage, a biotechnology company headquartered in Lisbon, Portugal.
The MoU is to create a cooperation platform which should foster collaboration, provide opportunity for global experience, joint applications to research programs in the European Union (EU) and in China, exchange of students and staffs, protection and valorization of new technologies, and to facilitate advancement of knowledge on the basis of reciprocity, best effort, mutual benefit, and frequent interactions.
TechnoPhage is developing small domain antibodies against specific targets in several human diseases with proprietary technology. Based on this technology, a new R&D program has now been started jointly with SIMM to develop TA-141. TA-141 will be developed for the treatment of inflammatory and autoimmune diseases and is expected to have global reach. The program will undergo discovery stages for the engineering of the new product, production and preclinical safety studies in order to generate data to support regulatory filings for clinical trials.
SIMM director JIANG Hualiang said SIMM will develop long-term collaboration with Portuguese institutions and companies from which more fruitful results will be generated in the near future.
Professor António Cunha, Rector of UMinho said the cooperation will increase the economic impact of their developments and provide an opportunity to develop effective international collaboration.
Miguel Garcia, President and CEO of TechnoPhage is pleased that the SIMM has decided to continue the cooperation with TechnoPhage.
About University of Minho
The UMinho, founded in 1973, is based in the cities of Braga and Guimarães, Northwest of Portugal. It is a comprehensive university with 11 Schools and more than 19,000 students. It has important research activities in life and health sciences, including drug delivery, regenerative medicine, and tissue engineering.
About TechnoPhage
TechnoPhage is a biotechnology company focused on the R&D of new molecules in several therapeutic areas. The company's strategy is based on the use of its several technology platforms, in order to identify new molecules with potential for different therapeutic areas. After being identified, the molecules proceed to the development stage. At this moment, the company is conducting 11 programs within its pipeline of new therapeutic molecules, one of them being already in the last phases of preclinical tests, for the rheumatoid arthritis indication.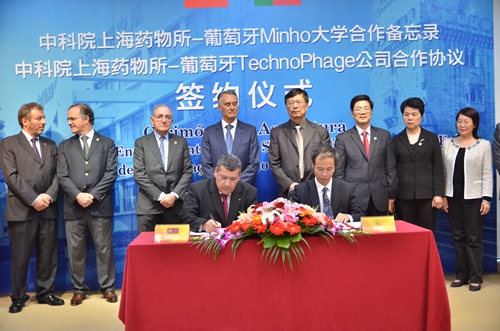 Signing of SIMM-UMinho Memorandum of Understanding (Image by SIMM)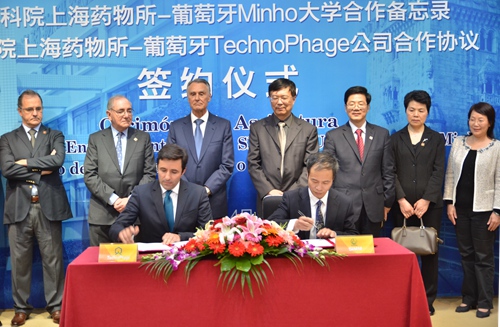 Signing of SIMM-TechnoPhage Collaboration Agreement (Image by SIMM)