The solar eclipse of 22 July 2009 was the longest total solar eclipse during the 21st century. It lasted a maximum of 6 minutes and 39 seconds off the coast of Southeast Asia, causing tourist interest in eastern China, Japan, India and Nepal.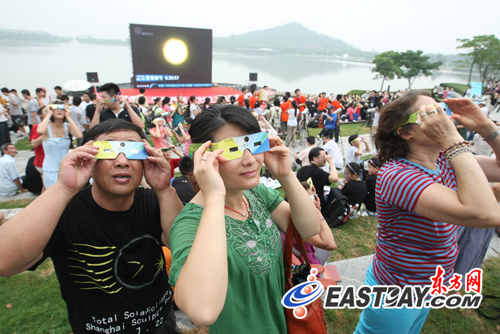 Although it was cloudy and rainy at that very day in Shanghai and most of peoples felt so sorry that themselves couldn't observe and witness the total solar eclipse. But Shanghai Astronomical Observatory (SHAO) did do a good job on popular science education and have good effects on societies. During one week before and after the solar eclipse, TV, newspaper and radio broadcasting and also web in Shanghai report news about total solar eclipse, even those mobile news media on bus and subway repeatedly broadcast the relating news. Shanghai Astronomical Observatory shows itself on all media in Shanghai, even extended to media in USA, Europe, Japan and Hong Kong. The news coverage was broadest in SHAO's history. Heat wave of astronomy was boomed up in public society. What we are proud of is that all the news reports are scientific correct.
Sheshan Station of SHAO have done a great deal of work in the early half year of 2009. First, we seek support from Shanghai Municipal Government and made security contingency plans with related departments. Second, three observational bases were established by us in Moon Lake Sculpture Park, Yangshan Port and Anji Tianhuanping resort. Third, we cooperated with companies and social societies, such as Bank of China, Shanghai Science and Technology Museum, Shanghai Jiaotong University, etc. to push the work further forward. Moreover, we organized experts and scholars to do speeches and lectures, also participated in live television, live radiocast and live webcast. Depending on the media we strengthened the power of popular science education and also SHAO becomes well known to public through these activities.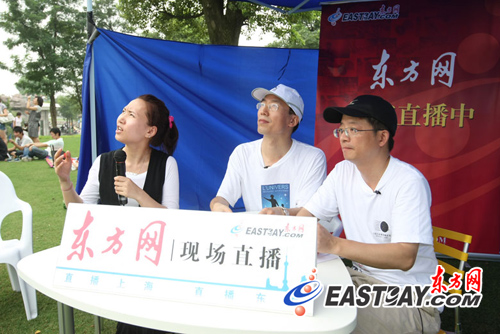 Although the solar eclipse has been past, we still have many things to do in the future. Year 2009 is International Year of Astrionomy, we should do our best to push the scientific popularization to higher level. We should final complete the renew of Shanghai Astronomical Museum and do more work to give scientific lectures, exhititions and other activities to pubilc.