A paper by a joint research team from CAS Key Laboratory of Low-Carbon Conversion Science and Engineering of Shanghai Advanced Research Institute (SARI) and SARI-ShanghaiTech University Joint Lab was published in the leading scientific journal Nature Chemistry on June 12, 2017.
The research team has found a new approach to convert carbon dioxide directly into gasoline by using a bifunctional catalyst contained a reducible oxide (In2O3) and a zeolite (HZSM-5), which will not only help to alleviate the global warming caused by increasing atmospheric CO2 concentration, but also offer a solution to replace dwindling fossil fuels.
"Because carbon dioxide is extremely inert, previous recycling was mainly on converting it to chemicals like methanol. But our findings are able to convert the greenhouse gas into value-added chemicals with two or more carbons like gasoline directly. And the conversion is of very high efficiency due to the newly developed catalyst." said ZHONG Liangshu, one of the project researchers.
Currently, CO2-based Fischer–Tropsch synthesis (FTS) route over modified Fe-based catalysts can be used for the production of hydrocarbons. According to Anderson–Schulz–Flory distribution, however, the chain growth probability of FTS limits the proportion of desired C5–C11 hydrocarbons only with 48% at maximum of C5–C11 selectivity. In addition, the degree of hydrogenation of surface-adsorbed intermediates in CO2-based FTS is higher due to the slower adsorption rate of CO2 when compared to CO hydrogenation, leading to more readily formation of methane with a decrease in chain growth. In the present work, the bifunctional catalyst exhibits excellent performance for the direct production of long-chain hydrocarbons from CO2 hydrogenation with high selectivity. The C5+ selectivity in hydrocarbons distribution (carbon atom-based) reached up to 78.6% with only 1% CH4 at a CO2 conversion of 13.1% (Figure). There was no obvious catalyst deactivation over 150 h, and much better performance was observed with internal gas recycling. Such results suggest a promising potential for its industrial application.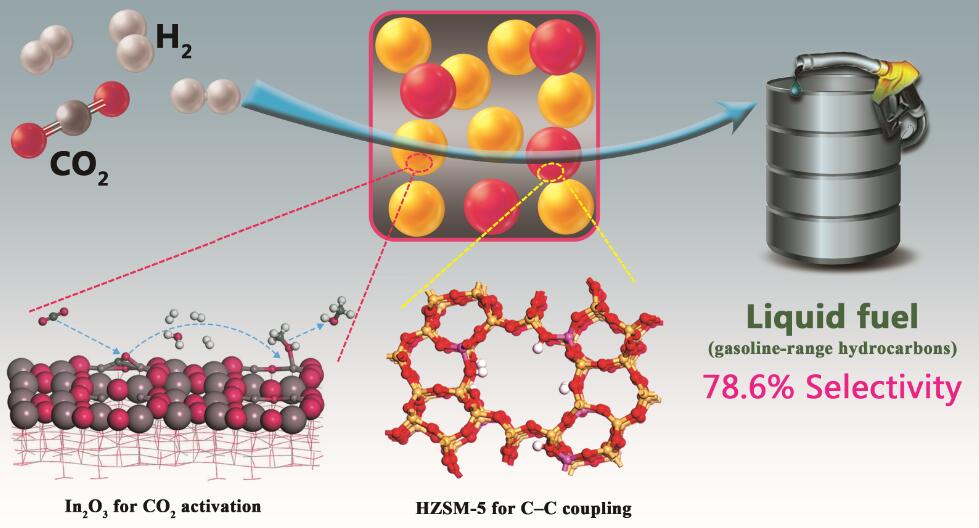 Figure: Direct conversion of CO2 into liquid fuels with high selectivity over a bifunctional catalyst (Image by GAO Peng)
China is the world's biggest carbon emitter and much attention has been paid to cut emissions. Chinese President Xi Jinping made the pledge that China would peak CO2emissions by around 2030 in his speech at the United Nations Conference on Climate Change in Paris. If CO2 can be directly and efficiently converted into liquid fuels, the dream toward cycling carbon by mimicking nature will come true.
Thanks to the support from the National Natural Science Foundation of China (NSFC), the Ministry of Science and Technology (MOST), the Shanghai Science and Technology Committee (STCSM) and Chinese Academy of Sciences (CAS), the research team has published the results on direct production of lower olefins from syngas in

Nature

last year. The results are highlights for the integration of research and education between SARI and ShanghaiTech and have laid a solid foundation for the development of Zhangjiang Comprehensive National Science and Technology Center.