Drug addiction is an enormous social and medical problem. The high propensity of addicts to relapse to drug-taking is challenging to prevent and treat drug addiction. The aversive memory associated with drug withdrawal can evoke motivational and/or emotional states that lead to compulsive drug taking. Extinction of such memory has been proposed as a therapeutic strategy for the treatment of drug addiction. But the underlying mechanism of aversive memory extinction has not been clearly understood.
Researchers at the Shanghai Institute of Materia Medica(SIMM), Chinese Academy of Sciences (CAS) in collaboration with groups at Kunming Institute of Zoology (KIZ) of CAS, China Pharmaceutical University and Tongji University School of Medicine. used conditioned place aversion (CPA), a highly sensitive model for measuring aversive memory of drug withdrawal, to investigate the mechanism of extinction of CPA to naloxone-precipitated opiate withdrawal rewarding memory of drug taking.
The researchers found that extinction training resulted in recruiting cAMP response element-binding protein (CREB) to and acetylation of histone H3 at the promoters of brain-derived neurotrophic factor (BDNF) exon I transcript, leading to an elevation of BDNF mRNA and protein expression in the ventromedial prefrontal cortex (vmPFC).
The researchers recently found that extinction training activates Rac1 in a BDNF-dependent manner in the vmPFC. Active Rac1 induces synaptic actin polymerization via activating Pak1-confilin signal pathway. Meanwhile, extinction training also results in Arc mRNA transcription.
Arc mRNA is then translocated at dendritic spines through actin polymerization dependent machinery. Within the dendritic spines Arc protein are rapidly translated, and then forms a complex with dynamin (Dyn) to facilitate GABAAR endocytosis, thereby leading to long-term potential induction and CPA extinction (see figure below).
Thus, the present work provides the first evidence that Rac1-dependent GABAAR endocytosis plays a crucial role in extinction of aversive memories of opiate withdrawal and suggests a therapeutic target to promote extinction of the unwanted memories. The finding has been published in the Journal of Neuroscience.
Professors LIU JingGgen (SIMM) and XU Lin (KIZ) are the corresponding authors. Ph,D. candidates WANG Wei-Sheng, JU Yunyue and ZHOU Qixin are the co-first authors of the paper.
This research was supported by the Ministry of Science and Technology of China and the Foundation of National Natural Science.
Full text link:
http://www.jneurosci.org/content/early/2017/06/19/JNEUROSCI.3859-16.2017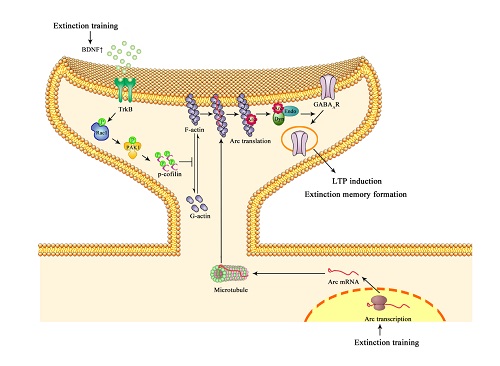 Contact person:
Prof. LIU Jinggen (jgliu@simm.ac.cn)