According to the reports of World Health Organization, more than 350 million people suffer from depression. Ranked by disability and death, depression is one of most high risk diseases. However current clinical antidepressants have shortcomings including slow onset of action, individual differences, and serious side effects. Novel targets and new mechanism assumed to be new strategies to develop new generation antidepressants.
The two-pore domain potassium (K2P) channels are discovered in recent years and one member of its superfamily, TREK1 potassum channel is a potential drug target for the treatment of depression, cerebral ischemia and pain. But there are still lacking specific inhibitors of TREK1 channel.
Prof. LI Yang's group from Shanghai Institute of Materia Medica, Chinese Academy of Sciences (SIMMCAS), in cooperating with Prof. YANG Huaiyu's research group at East China Normal University(ECNU), made breakthroughs in the validation of drug binding pocket and its regulatory mechanisms of K2P channels, and further identified novel potential antidepressants targeting to extracellular cap of TREK1 channel. These results have been published in Nature Communications.
Unlike other potassium channels, K2P channels have a large extracellular domain, and the physiological and pharmacological functions of the domain are not well explored.
In this study, the researchers firstly discovered a dynamic cavity in extracellular domain of TREK1 channel by extensive molecular dynamic simulations, which is a potential small molecule binding site. TREK1 inhibitors were obtained after drug design targeting the dynamic cavity.
By using inside-out, outside-out patch clamp experiments and mutagenesis experiments, the researchers verified that the active compound was incorporated into the new locus identified.
Molecular dynamics simulation studies have revealed that the inhibitors(TKDC) blocked the TREK1 channel by the mechanism of allosteric regulation to block the extracellular side of the channel.
In addition, the identified inhibitor, TKDC, displayed fast antidepressant effects on mouse behavoral models (fluoxetine as a positive control drug). The TREK1 inhibitor TKDC has significantly faster onset than that of fluoxetine in chronic administration trials, and the study confirms that TREK1 is an important target for the development of rapid antidepressants.
The study is a significant step forward for understanding the function of TREK and for identifying specific inhibitors, which should be of interests to others in the antidepressant research field.
This work was supported by Chinese Academy of Sciences, Ministry of Science and Technology of China, and the National Natural Science Foundation of China.
The article links: https://www.nature.com/articles/s41467-017-00499-3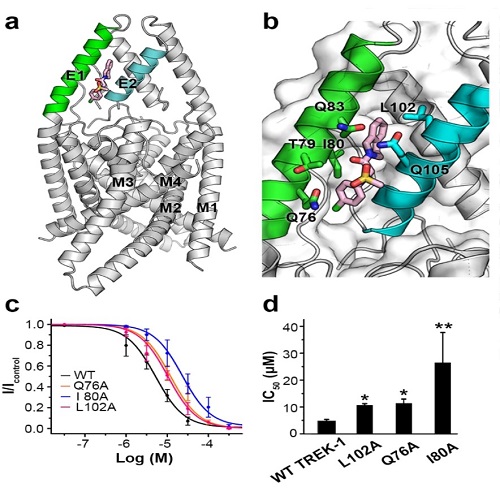 Figure: The validation of novel antidepressant binding pocket in TREK1 channel (Image courtesy of SIMMCAS and ECNU)
Contact:
LI Yang
Shanghai Institute of Materia Medica
E-mail: liyang@simm.ac.cn